Surprise Sex
38
A Surprising gift for a Birthday
Hello, friends. My warm greetings to the listeners of https://nightqueenstories.com
She knew that he had planned something special for her tonight. By now she knew the expression on her face when he was already naked in his imagination and when he was already opening her body in her mind.
He had taken them out to dinner tonight, and afterwards they'd gone through some bars. When she wanted to go to the bathroom for a moment, he took her arm and pointed towards the bedroom. "Not now," he said, "you have something else to do now."
"Please, I have to urgently!", She tried to change his mind, but her pleading was in vain. He definitely shook his head and gave you that warning look that made her feel very warm.
"You will do what is required of you tonight," he confirmed her guess. In the past few weeks, you had started experimenting with submission games, which made them both pretty hot. "Just as you command," she replied humbly, without being able to keep from smiling, and without loosening his grip, he opened the door to the bedroom and pulled her in.
She looked astonished at the room, which was lit only by a few candles. "Take off your clothes!" He ordered bluntly. When she tried to reply, he just put his finger to his lips and looked at her sternly. So she took off her clothes while he watched her silently until she was standing in front of him in her underwear. "Pretty, but make yourself completely naked," he instructed, waving his hand impatiently. Reluctantly, she first stripped off her bra, then turned around mischievously as she pulled her panties down, bending her hands up to her ankles, knowing how sharp the sight of her bare bottom made him.
When she stood upright again in front of him, she saw, as expected, how he had to struggle for a moment to maintain his played pristine and imposing facade, and secretly rejoiced at the effect her body still had after years triggered him. "We'll make you laugh," he said with a wink, and reached for a previously hidden bag behind the bed.
She looked incredulously at the indefinable something he brought out of it. However, she soon realized what it was like when he stepped behind her and put on a padded neck cuff like a fiance a pearl necklace from his lover. "It's not as bad as it looked," she thought to herself, but she was wrong.
"Now we're going to make sure you stay a good girl," he said, taking her hand just to place a smaller cuff and wrists. Now her pulse was slowly increasing and her heart was racing as he hooked her right hand on the collar. He now took her left hand and led her up with a gentle pressure when the
excitement did not escape a soft "no".
The pressure around her wrist increased immediately. "How was that?" He asked her, his lips very close to her ear, while his free hand grabbed her hair at the back and held her head slightly at an angle. "Sorry," she murmured sheepishly, remembering her role. "What's it called?" he asked without letting go of a millimeter. "Sorry, sir!" She corrected. Now she had the second arm fastened without resistance. She only noticed the leash on the collar when he grabbed her and gently pulled her to the other corner of the room.
"Not too quickly," he corrected her, "I'm setting the pace here!" So she slowly walked behind him so that the line remained slightly taut.
Acknowledgingly, his gaze slid over her body, brushed her breasts half hidden behind the bound arms, and then lingered gingerly in her crotch until she had noticed where he was looking, only to look provokingly back into her eyes, if she might should be so reckless to protest against it.
Arriving across the street, he tied the loose end of the line around the heater. "Wait here," he said to her as if she could go somewhere, left the room and closed the door behind her. Left alone, she became all the more aware of her nudity, and her thoughts of what he was going to do with her next were suddenly interrupted by the pressure in her abdomen, which reminded her that she wasn't allowed to go to the toilet before.
She squeezed her legs together and began to slowly move her hips back and forth. Suddenly she realized that he had sneaked into the room unnoticed and was staring at her from behind. He had undressed outside and instead of now with a neat stand in the room, his eyes were fascinated on her behind.
She immediately stopped and tried to get up on the heater with the leash as best she could. "Please sir, I have to go now!" she tried it. "Later" was his only answer when he stepped behind her. His cock pressed against her buttocks as he reached around to release the leash. Suddenly he grabbed her breasts from behind, pressed her tightly and rubbed his body against her back. She groaned softly in surprise and then relaxed, surrendering to his grip.
"Did you stare at my tail?" He whispered in her ear from behind. "Yes sir," she answered truthfully, breathing in slightly as he grabbed her nipples and pulled on them. Again her heart was racing between fears that he could pull
too tight and enjoy the feeling that it was not pain, but not tender either.
"Am I your object of pleasure that you stare at me?", He continued the interrogation, still pressed against her. "No, sir". "Do we have a pleasure object here?" She knew what he was getting at, but only managed to nod and mumbled "Mhm". The grip on her nipples immediately hardened again. She knew she had to say it out loud, if she wanted to avoid an increase. So she gathered all her courage and said, "
"That's right. And can I stare at you as much and as long as I want"? "Yes Mr". "And why can I do that"? "Because it makes you horny, sir". "That is also correct. And does anyone care if you are embarrassed"? Now he had it. She swallowed once before giving the answer, of which she did not know whether she could keep it: "No sir, I am only here for your pleasure. And your wish is my desire".
"That's how good it is. Still, I can't tolerate you letting yourself go like that." With these words he slipped on the blindfold he had fished from the bag ready. Now she was suddenly not only helpless, but also deprived of the opportunity to mentally prepare for the next step, and her tension increased further. What had she gotten into?
"Come on, we're going for a walk," he said, gently pulling the leash again. Carefully following the pull on the collar, she put one foot in front of the other. After a few steps she gave up trying to imagine the direction, let go internally and surrendered to his guidance. She knew he was watching her all the time and scanning every inch of her body with his eyes, but tried not to think about it. Rather, she let every new step come towards her, willing to follow the mute instructions on the leash.
The feeling of warm tiles under their feet had meanwhile arrived in the bathroom. In one fell swoop, her body remembered this need. "Lord, I really should now …" "You don't have to do anything I don't tell you," he interrupted sharply, "sit down here!"
She went down on her knees carefully until her buttocks touched the edge of what must have been the toilet lid. He gently took one hand after the other and released it from the collar, as well as the leash. "Hands behind your back!" he ordered and clicked the cuffs together at the wrists. "Lean back"! With slight but firm pressure, he led her shoulders back until she could
support her hands in front of the cistern; and before she knew it, he wrapped the line around the back and tied her hands in that position. Involuntarily, she presented her breasts to him with her back slightly pressed and felt slightly obscene.
He hadn't missed this sight, because he stroked the curves of her breasts lightly, only to take a nipple between the index finger and thumb shortly afterward and pull it lightly. "Should I have more?" He asked challenging. Again she managed to nod. "Then ask me for it!", He reminded her of who was in charge. "Please, firmer, sir," she hesitantly complied with this request, and again hot and cold showers spread alternately through her body.
"Now spread your legs apart!" he asked her, but even after a few seconds she did not follow his request. "That's …" she started quietly, but then fell silent. "Sorry, sir …"
Then he came up to her and took her head in his hands. "Now let the mango, it's just a gimmick. Do you think I'm interested in having sex with a really submissive doll?" She shook her head hesitantly, not knowing where he was going. "Salutation with 'Herr' is just a cliche, an ironic allusion to the whole SM thing that should trigger the same pictures and fantasies in both. But I don't want to humiliate you here, not to punish you and certainly not to cause real pain, and certainly not a weak woman who just lets everything happen to her! "
She seemed to relax a little, and he still came up to her as he pulled her head to his crotch. "I want you here as the strong woman that you are.
Surrendering to control is not a weakness, just a release of responsibility, a release, one that can concentrate on your own enjoyment". Slowly he started rubbing her face. "And at the same time it is strength. Because you can be aware of the power that you and your sight have over me. And so it is a constant interplay of the upper hand, like an electric charge that flashes between two poles, between an order, and the – almost – obedience, which in turn triggers compliance … So play with me and my lust, be stronger than me by letting go! "
As a test, he grabbed her hair again at the back of the head, pulled him back slightly and rubbed his cock on her face. The pulsating warmth on her cheek and lips made her forget the brief interlude, and she let herself fall further, just thinking about the feel of his cock and opening her mouth willingly. He let it taste the full length from root to tip, and then gently pressed his acorn down. But he only let her suck briefly and interrupted her: "Later you may, not yet". Slightly opened lips still mourned the hot taste of his flesh when he took a step back and repeated his words: "Spread your legs apart, I want to look at your pussy!"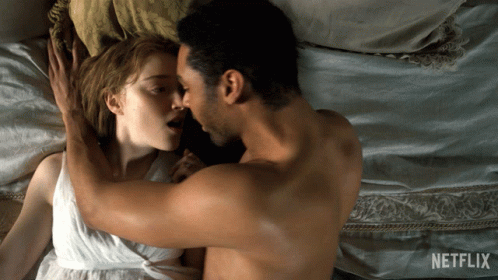 Reluctantly, she opened her thighs. For a brief moment she thought about how she was sitting there, stretching her breasts and presenting her cunt unprotected, when she felt his hot breath on her labia. She thought of how he was kneeling in front of her now, his face between her legs and barely holding back, and suddenly wished he would finally touch her there.
Not long after, her wish came true, and his fingers gently ran over her venus mound, moved further over her lips, and opened them slightly. From his painting, she could imagine how excited he was now. She groaned almost relieved when she finally felt his tongue against her, and more waves ran through her body as he caressed her most sensitive area alternately with her lips and tongue.
As if out of the blue, a different feeling crept into her excitement, and she knew that nature would soon take its toll. Startled, she tried to free herself, but her hands were not free, and all she could do was press his head tighter between her thighs. His hands pulled her hips relentlessly against his face as she wriggled, and against her will a small ray said goodbye to her.
She was convinced that she had spoiled the whole thing now. But to her surprise, he seemed to like it, and eagerly licked every drop off her thighs that had missed his mouth.
The thoughts circled wildly in his head with excitement. Just being dirty and crossing the border drinking her juice drove him insane, but he was even more excited by the intimacy, the closeness and the familiarity of being close to her at that moment, feeling her body heat flow over her and absorbing it, like it is otherwise only possible for women to blow. He felt like a vampire drinking the blood of a virgin, she felt in herself, only united, a kind of connection that could only be compared to a common orgasm.
She seemed to feel it, and not only because of his sucking on her cunt, which was almost unbearable waves of irritation through the body. Her muscles tensed one last time before the orgasm nearly shook her, and she couldn't hold herself in the following relaxation. It shot warm and strong out of her, and when he felt the greed with which he was feasting on her, rubbing against her to be completely covered by her, she let herself down one last, final time and offered it to him, enjoyed the feeling of completely relaxing and simply letting it flow in a figurative sense. "This is how a man must feel when he jerks off," she thought, and while she was still filling him with relish, a second orgasm was already shaking through her limbs.
Now there could be nothing left between them. This ultimate proof of trust that there was nothing, but really nothing, that they would not share, triggered a new level of closeness that she would not have thought possible.
Slowly his head rose from her lap and when his lips pressed against hers she realized that he hadn't swallowed a last mouthful. She opened her lips willingly, and warm and salty her own piss dripped into her mouth, at first a little, then in a surge when he opened his mouth fully. As long as possible, they tried to delay kissing the tongue without losing their juice.
After what felt like an eternity, she felt something warm drip into her lap and knew that it was her turn. Still kneeling between her thighs, he straightened up a little, and directed the beam from his stiff cock straight onto her pussy. With a sigh, she pushed her pelvis forward so that he could reach any part of her labia. Now having lost any inhibition, she moaned "piss me!", Squirmed under his beam and enjoyed the damp warmth, as if she satisfied herself with the shower.
Still pissing on her, he got up completely, pissed briefly on her breasts and watched fascinated as his gold ran down her pussy between her hills, and finally pissed on her face. In no time the blindfold was soaked, and without further ado, he stuck his pissing cock into her greedily open mouth. Like a thirsty woman, she soaked up his urine, swallowed his juice and let what was too much run over her lips.
When she felt that it would soon be finished and the jet slowly dried up, she also took a big sip in her mouth. He knelt again, and while she gave him his piss in another long kiss on the tongue, he penetrated her. Rubbing and
kissing their wet bodies, he fucked her hard and tender at the same time, and when they finally came together he trembled all over so that he had to hold on to her for a moment.
He passed her and loosened her arms, and while he was stripping her blindfold, she looked deep into his eyes and put his arms around his neck. So they kissed deeply and intimately, wrapped tightly, until after an eternity laughed in the shower.
Epilogue
It was clear to them that you could not do such a session every time. Nevertheless, after this day there was always a champagne glass in the bathroom, which she filled him every time she had to pee, and then left it on the sink. And mostly she pretended not to notice him watching through the crack in the door …
In the next story, I will share with you another story named "Secret Sex Stories"
We hope you like to stay with us. We will continue to provide you with the best sex stories. To get more stories like this visit nightqueenstories.com and if you are looking for some erotic images then visit our image page also.
Click here for Hindi Stories Indian Antarvasna Sexy Hindi Seductive Stories
Click here for English Stories Best Real English Hot Free Sex Stories
Take care of yourself. And keep your love like this.
Don't forget to comment and like.
The End.