Fuck Daughter's Best Friend
54
Fucking My Daughter's Best Friend
Hello, friends. My warm greetings to the listeners of https://nightqueenstories.com
Annika is my daughter's best friend and we have known each other for years. She spent a lot of time with us and stayed with us more often, this time too.
Unlike everyone else, I had a day off and slept late. When I crawled out of bed in the early morning, I went into the kitchen to make myself a coffee. Since I assumed that the others had left the house in the meantime, I didn't bother to put on anything and went naked to the coffee machine as I was. I had just put my cup under it and pressed the button when I heard a voice behind me.
"Good morning, are you making me one too?"
I turned and saw … Annika! She was still wearing her pajamas while I stood in front of her in my full naked glory. I felt a little more blood shoot into my loins when I looked at her, luckily without actually getting an erection. Her eyes went over my body and she grinned at me.
"I'm sorry. If I had known that you were there, I would have dressed, "I tried to play down the situation casually.
Although we were very open to each other at home, and we were also naked and sexual, when guests were in the house, we behaved as usually mannered.
"No problem."
I took a second cup from the cupboard and pressed the button on our fully automatic coffee machine again for Annika. I handed her the cup, which she happily took off. Then she leaned forward and grabbed the milk behind me. I could feel the soft fabric of her pajamas on my body, which switched to automatic mode and gave me half an erection. So I quickly made my way out of the kitchen.
"I'll go to the bathroom then."
I was halfway out the door when she called after me. "Tell me …"
I automatically stopped and turned to Annika. "Yes?"
"All right …"
I saw her broad grin again, which conjured up the sweet dimples on her face. Only then did I notice how her gaze was fixed on my loin and looked down at me. My semi-rigid member stood out from my body, the glans still hidden under the foreskin. With a slight blush, I turned and went to the bathroom.
I sipped my coffee while shaving. Annika never got out of my head. I knew her since I was ten and saw her growing up close. Puberty and physical changes too. She had become an attractive young woman with a keen mind, charming character, and gorgeous looks. I thought back to when I last saw her in a bikini: velvety light brown skin, small, firm apple breasts, a sporty body with a flat stomach, firm but round buttocks, and muscular thighs. My limb stirred at the thought and grew a little bigger. I wondered when I last saw her naked. But that was years ago at the lake.
My coffee was all over, the shave was done and I finished the head cinema. With a half-stiffener, I went into the shower and turned on the warm water. I had just soaped myself when Annika came into the bathroom.
"I'll be ready in a minute, then you can take a shower." "No problem."
While watching me soaping up, she took off her pajamas and headed for the
shower stall. I got bigger and bigger eyes as she opened the door and stepped into the shower.
"I thought we could do it together."
With her winning smile, she looked at my face and I was
unable to answer. She took the soap and poured a large portion into her hand. "Turn around, I'll soap yours Back one. "
Without a word, I followed her request and turned around. A moment later I felt her warm hands gently slide over my back and lather me with gentle touches. It slid deeper and deeper until it reached my buttocks and just kept going. She massaged my bottom, then rubbed a hand through the Prioritize. For a brief moment, I felt her fingertip on my anus, then her finger was gone, leaving a feeling of nothing burning. I heard her take new soap. I was still unable to
move or even think clearly.
The situation, the tingling, controlled me and I could not and did not want to free myself from this spell. The next moment I felt Annika push against my back and put her hands around me to distribute soap on my upper body. She rubbed in small circles from my chest down over my stomach to my pubic mound. Naturally, she grabbed my scrotum with one hand and my limb with the other. She pulled back the foreskin and waited until I had a full erection. She put her half-closed fist around my glans and while one handheld my shaft, she kept turning her fist around my glans until I groaned.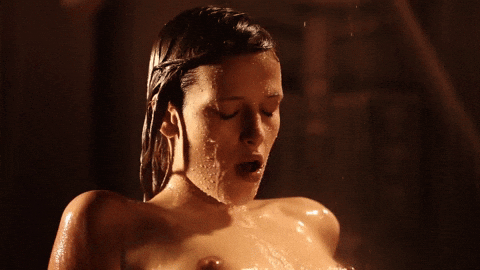 I turned around, immediately putting her arms around me so that her body hugged me. I felt their warmth.
"What are you doing?"
"Showering with you …" – she grinned. "And where is that supposed to lead to?" "I want to sleep with you."
It hit me like a bomb. Annika, my daughter's girlfriend, stood naked with me in the shower, rubbed my stiff cock, and said she wanted to have sex with her.
I knew from my daughter that Annika was currently solo. She had already had a boyfriend with whom she had slept. Back then there was quite a bit of stress and we, like a substitute family, went through this difficult phase with her. I also knew that she was still taking the pill. But I never thought that she might or would seduce me. Admittedly, Annika had fired my imagination one time or another, but I would never have seriously considered being allowed to touch her body. And now her naked body nestled against me. I hugged her and gently stroked her back. She leaned against me and enjoyed the closeness.
So that we did not get cold, I turned on the warm water and we stood close together under the water jet. She turned her head to me and stretched out her lips to me. We kissed each other. First carefully, then more demanding and finally she opened her lips and stuck her tongue into my mouth. I pulled her closer to me and my hands slid down my back as if by themselves until I felt her buttocks. I massaged her, tickled her, slid through her Prioritize,
and rhythmically pulled the buttocks apart because I knew what irritation would be transmitted to her clit. Annika became more restless and I let go of her.
Against her resistance, I pushed her away a little, looked down at her, and looked at her excited and arousing body.
The nipples were hard like little cherries and I just had to put my hands on her breasts, massage them and finally suck on Annika's nipples. I kissed deeper and deeper over her stomach until I knelt in front of her and my face was right in front of her lap. She had not too thick pubic hair that was now wet and allowed a good look at her labia. I kissed her pubic mound, then I stuck my tongue out and looked for her clit. Her groaning told me that I had found the right point. But I wanted to taste it, I wanted to know how that girl's lust felt on my tongue. My tongue moved further back and slowly and with relish, I licked from behind to front through her soaking wet labia.
Annika tasted sweet and tart at the same time.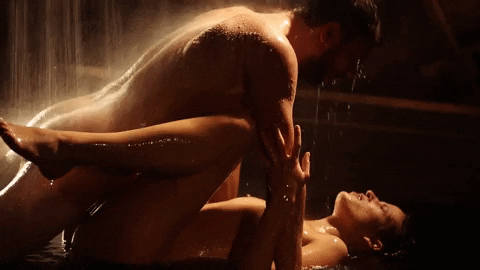 With my fingers, I spread her labia and looked at her significantly enlarged clitoris before I very carefully and tenderly began to touch him with my tongue. I felt her tremor and soon let go of her. This direct irritation was just too intense. Instead, I got up, turned her over, and slipped shower gel between her buttocks. Then I hugged her from behind, my limb lying down on her head as I hugged her and my hands slid over her body. I pampered her from top to bottom while my glans slid through her Prioritize again and again.
Her buttocks nestled against my loins, I felt like I was in seventh heaven.
With one hand on her chest, the other groping for her clit, I moved my pelvis back and forth. When I shoved my finger into her vagina, deep into her body, and felt the tightness and moisture of her lust, she groaned at me to finally sleep with her.
I let the water run between our bodies and wash off the shower gel and the foam that had developed in the meantime from my member. Then I pushed my limb down and looked for the entrance to her wet paradise with my acorn. Annika pushed her butt back and when I leaned down a little I could see her asshole and immediately below her vagina awaiting me. I pushed my acorn through her labia and noticed the tightness. Now I took my time because I didn't know how much experience she already had and pushed forward in slow motion. And even though she pressed her pelvis towards me, it took a moment for my acorn to finally get into the narrow aisle. Then I slid all the
the way into Annika, savoring every second.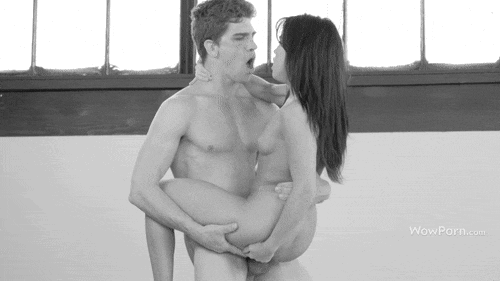 After the pressure decreased a bit, I started to take a slow, steady rhythm. To be able to drive Annika to the climax, I gently caressed her clit from the front. Annika became more restless and my movements became faster.
Every time I slid deep into her, my loins slapped her firm buttocks. It wouldn't be long before I tried to hold myself back for a moment, but when I felt the tremor that went through her body, she held her breath for a moment before rhythmic waves flooded her, which gently massaged my glans every time, it was to happen to me. I pushed myself completely into her one last time and stayed in this position, her buttocks on my loins, my shaft lengthways in her vagina, my acorn on her cervix, and felt my sperm make its way out through the twitching, pumping movements of my member. In an incredible orgasm, I inject my love juice deep into Annika. More and more sperm shot into her vagina and oozed out of her beside my cock, running down her thighs until it was washed away by the shower water. Gradually our breath slowed again, the tension released from our bodies, and I pulled away. ran down her thighs until it was washed away by the shower water. Gradually our breath slowed again, the tension released from our bodies, and I pulled away. ran down her thighs until it was washed away by the shower water.
Gradually our breath slowed again, the tension released from our bodies, and I pulled away.
My limb had lost its stiffness, but not its size. Annika turned, knelt in front of me, and put my cock in her mouth to suck out the remaining drops of sperm. The answer was another erection when she finally let go of me. I returned the favor to her and licked our love juices together between her labia. Whenever she tensed her pelvic muscles, a new surge of sperm mixed with Annika's pleasure juice pushed onto my tongue.
Then I concentrated on the area around her clit, put my hands on her buttocks so that she could not escape me because she was already touching my tongue and I only let go of her after I had another climax felt and her pulled pull. After I straightened up, I felt her hand gently caress my rigid member. She gave me a tender kiss on the lips and left the shower cubicle. After taking a shower and drying myself, I went into the bedroom with a bobbing stiffener and got dressed. When I came into the kitchen to get another coffee, I noticed …
… that I was home alone … and there was only one used coffee mug …
In the next story, I will share with you another story named "Flirting with a Stranger"
We hope you like to stay with us. We will continue to provide you with the best sex stories. To get more stories like this visit nightqueenstories.com and if you are looking for some erotic images then visit our image page also.
Click here for Hindi Stories Indian Antarvasna Sexy Hindi Seductive Stories
Click here for English Stories Best Real English Hot Free Sex Stories
Take care of yourself. And keep your love like this.
Don't forget to comment and like.
The End.